Welcome back! We are so happy to see smiling faces each and every week! This week, we have another fantastic challenge for you, so let's get down to business! Our winner for last week's Stitchy Bear prize is:
Random Integer Generator
Here are your random numbers:
100 
Timestamp: 2011-04-05 11:28:42 UTC
Now for the challenge! Let's see some April showers (so we can get some May flowers!) Anything to do with rain, water, clouds, etc! Our sponsor is the wonderful
Simon Says Stamp
!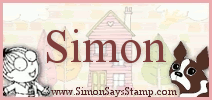 In business since 2002, Simon Says Stamp is striving to offer you the best selection of Rubber Stamps, Altered Art, Scrapbooking, Artist Trading Cards, and Paper Crafting Supplies in the world. We stock over 100,000 items in our warehouses so that we can offer you quick service and one stop shopping at a great price!
Happy customers are the heart of our business.
We work hard to find and deliver to you the latest in stamping and paper crafting supplies! Attending classes, workshops, and sales meetings around the world, our goal is to keep our product offerings fresh and current. Make us your one stop easy shop - and we'll deliver right to your door!
Simon Says Stamp has over 100,000 items in stock. They have all of the latest releases from Magnolia, Whiff of Joy, Tim Holtz, Spellbinders,
Copic
and so much more! With free shipping for all International orders over $200 and USA Orders over $70, it's a great time to shop with Simon Says Stamp.
The prize is $20 gift certificate to the store!
Now for our fabulous DT samples: